As I mentioned in my last post I am going to post weekly, so I'm calling this my "Project 52"! Â  The first week of the year simply flew by, as I'm sure the other 51 will too!
As I reflect on the past week I am reminded of just how thankful I am for the little blessings in my life, all surrounding my sweet family and dear friends. Â  My husband and sons continue to support me in everything I do and this week I declined an amazing personal opportunity. Â  I am being lead to focus on the husband and two little blessings that God gave me. Â In my office I have the following quote hanging …it really helps me put things into perspective: Â from Stephen Covey, "You have to decide what your highest priorities are and have the courage – pleasantly, smiling, non-apologetically -to say 'no' to other things. Â And the way you do that is by having a bigger 'yes' burning inside. Â The enemy of the 'best' is often the 'good'."
These two boys are my highest priority and I am SO very thankful that I have been given the opportunity to be their Mama!
Every December/January my husband and father-in-law calve out first time heifers. Â  They check them multiple times in the day and at night to ensure that they don't have any trouble having their calves, if they do they help them out. Â  This morning when it was evident that there wouldn't be time to attend church because of a missing baby calf that was born in the night we all loaded up to look for this baby among tall grass and lots of yucca plants. Â It was a great time of fellowship in the ole' feed trunk together as a family, teaching our boys how important it is to understand that this land and these animals are the Lord's and we are just lucky enough to get to care for them.
This week we celebrated three birthdays, first was for our niece, Natalie Brynn, (see her Mom's great blog here!) who turned four on January 4, 2010. Â  She is growing up so quickly, as are her brothers, Isaac and Rhett! Â  The boys got to spend a long Christmas week playing with their cousins and celebrating Nat's birthday! Â Here she is wearing the real pearl necklace from that was her Gramme's when she was a little girl!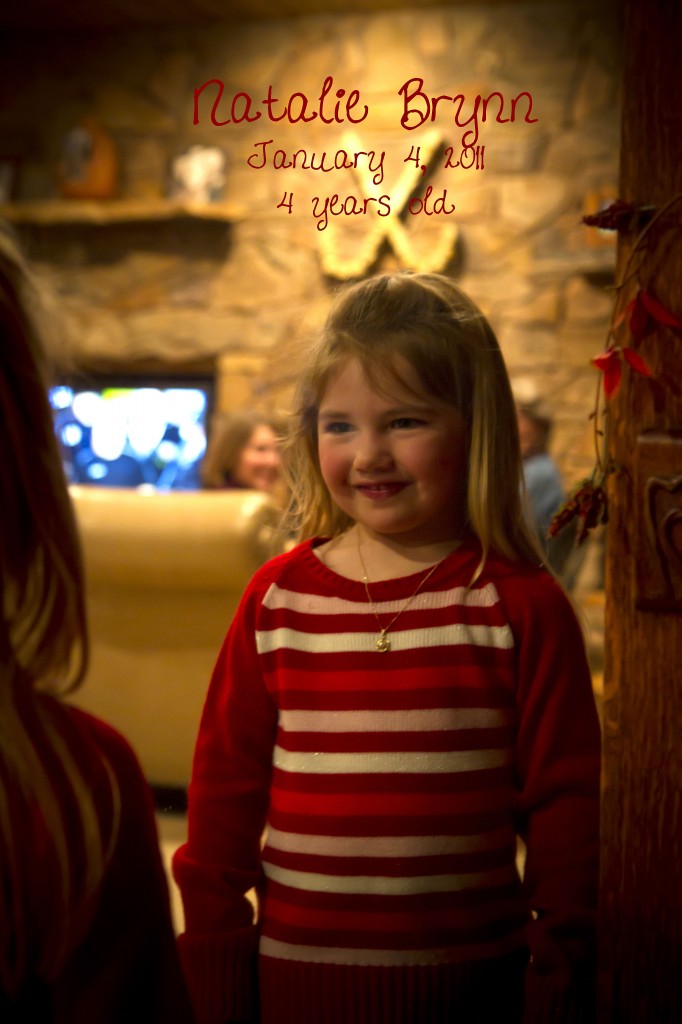 We celebrated Nanny's (Willa, Troy's mom) birthday on 1.5.10. Â The boys and I spent all day making homemade cookies and homemade crafty things for her! Â They love to cook…but Bryce would much rather eat the dough and the cookies right out of the oven than give them away…even if it is for Nanny's birthday!
Last year we were able to spend a lot of time with the Wilson family, you have seen their beautiful family here . Â We consider ourselves very fortunate to call these honest, hardworking, down to earth folks our friends! Â  They have two beautiful children; Eleck and Cole will be in the same class as were their Daddy's almost 16 years ago! Â  Keeping up with tradition Bryce tried to eat all of the cake and cupcakes he possibly could before we left, he is defiantly my little sweet tooth.

As you can see our year is off to a busy and fun start! Â I am excited to get finished up with "2010" business things so I can throw myself into 2011 fully and of course capture photos for you and your family!
I am off to prepare for the 2nd week of 2011, I leave you with some encouraging words from a Beth Moore Scripture Card
CHRIST JESUS, You said that those who believe You are Your sheep. Â Your sheep listen to Your voice; You know them and they follow You. Â You give them eternal life, and they shall never perish; no one can snatch them out of Your Father's hand. Â You and the Father are one. Â (John 10:26-30)